The Start of the "Internet of Things" is Near
Jungle Buzz
— By
Alex Destroyz
on October 25, 2011 at 5:09 pm
Thinfilm, a Norwegian printed electronics company, and PARC (Palo Alto Research Center Incorporated), a research and co-development company in Palo Alto, California, have announced a big step towards a day when everything is connected to the internet, according to The Register.
The two companies have partnered together for a technology that can not only print memory onto thin films, but can also print transistors to "address and manage the memory." Thinfilm CEO Davor Sutija, stated that, "This is the first time that you're combining organic, semiconductor-based transistors in an equivalent style to CMOS in silicon." These CMOS (complementary metal-oxide semiconductor) chips can be printed on large rolls, very cheaply, as in a few cents per unit.
Davor Sutija went on to say that, "It's not metal-oxide, so you can't really call it CMOS… It has n-type and p-type semiconductors in the design, and we're using that logic to address and decode the printed memory." "Now, for the first time, we can add logic to control the memory, to read the memory, to address the memory."  Sutija said that achieving read/write systems would be the next step and once that's achieved the next goal would be to add components "to the printed materials that can read sensors and store information from them into the memory." The obvious application for the technology would be NFC (near-field communication) or RFID systems. Once these objectives are met, these "dirt-cheap" printed devices will be enabled to be attached to anything, and with appropriate contact and non-contact interfaces, report back on everything – welcome to the internet of things.
Thinfilm and PARC aren't the only companies working on this, according to Sutija, "There are a number of companies… that have been working on printed sensors, printed power sources, printed displays, and we're going to be active in build an ecosystem with these other partners to be able to then create integrated products."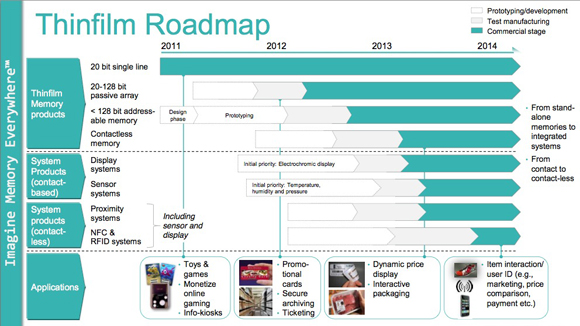 This Thinfilm roadmap lays out the way towards NFC & RFID systems. 
According to Thinfilm's roadmap NFC & RFID systems will be deployed by 2014. Interestingly enough IPv6, which would allow for every physical thing on the planet to be tagged, is slowly gaining traction among service providers. The results, of the survey taken by Number Resource Organization show that more than 70% of the respondents plan to deploy IPv6 in the coming year. (Click here for an explanation of IPv6 and what we use today.)
As expected to accommodate of being attached to everything and everywhere systems will become increasingly flexible. A perfect example of this is the rumored release of the Galaxy "Skin" from Samsung supposedly being released in the second quarter of next year. Whatever the future is, one thing is for sure, it's flexible! Video demonstration of a flexible Samsung AMOLED display below, from CES 2011.
Tags: Dr Doom, Internet, Tech
Trackbacks
Leave a Trackback